Main Page
From Morevna Project Wiki
Jump to navigation
Jump to search
Welcome
This is a wiki of Morevna Project. This wiki helps us to manage information about the project and collaborate. Feel free to join!
You need to register to be able to edit pages here. For information on using the wiki software visit User's Guide. Please, don't forget to consult with the Copyright before contributing. If you want to track latest changes made, then Recent changes page is your friend. Thank you!
Project data
Most of the concept currently is work in progress - see the Task List below.
Task List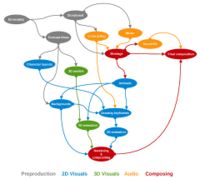 Concept
Production